The Euro Souvenir in the News
TV news, video reports, printed and online press reports
We collect here online and offline news reports and articles from national and international news about the Euro Souvenir. The rich variety of reports especially in the international news gives evidence of the fast-growing popularity and excitement about this innovative souvenir product.
INDEPENDENT.IE - Local heroes: Entrepreneur out to cash in on demand for souvenir euro note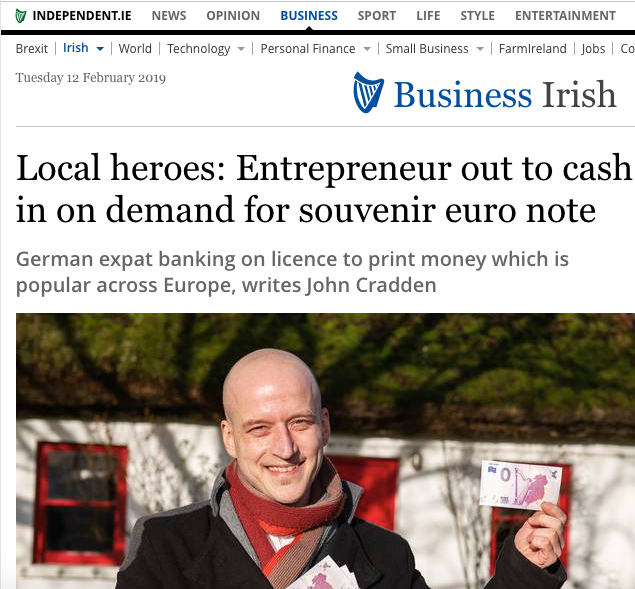 It may not be an actual licence to print money, but one Galway-based firm is banking on the astonishing popularity across Europe of the 'zero-euro' note.
The zero-euro is an souvenir banknote authorised by the European Central Bank and printed by Oberthur, a facility in France that also prints the real euro banknotes.
Like a traditional banknote, it has a watermark, holographic protection and tactile marks that are visible under UV-light. As well as looking and feeling like the real thing, it can be personalised with a picture of any visitor attraction, event or building. Euro Note Souvenir owns the exclusive Irish licence for the zero-euro banknote and is currently in the throes of rolling out a service whereby visitor attractions here can purchase banknotes with their own attraction or motif displayed, and market them to their visitors on-site via an ATM-like machine, or online. Read More
COIN WORLD - Newest 'note' from Ireland has a face value of zero euro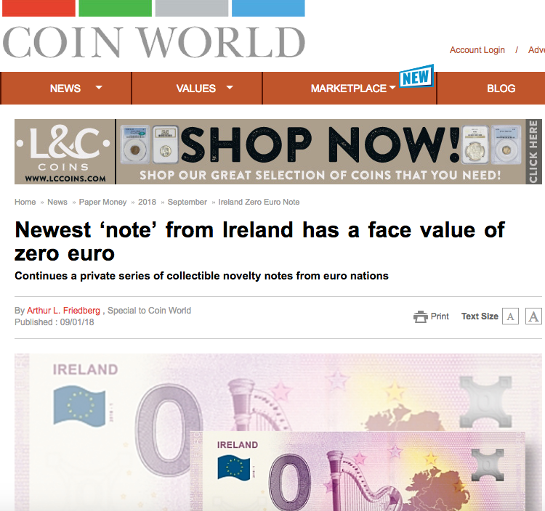 Ireland is the ninth country to have a bank note issued in its name with a face value of zero euros. The note was released by a company in Galway called Euro Note Souvenir.
Its face has a picture of a Celtic harp and a map of Ireland showing its counties. It was printed by Oberthur Fiduciaire in Switzerland, an official Euro bank note printer, and is made of 100 percent cotton paper. It features a standard watermark, hologram, microprinting, security thread, and symbols that appear only under UV light, as on legal tender euro notes.
The issuing company says the €0 concept already exists in France, Germany, Austria, Belgium, Italy, Spain, Greece and Portugal. The faux paper money is made with the approval of the European Central Bank.

Mintage World - Ireland's First 0 Euro Banknote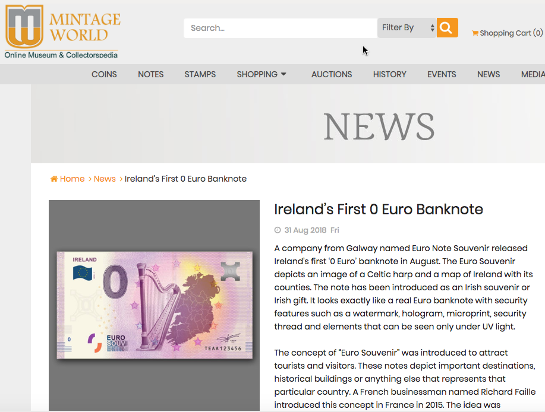 A company from Galway named Euro Note Souvenir released Ireland's first '0 Euro' banknote in August. The Euro Souvenir depicts an image of a Celtic harp and a map of Ireland with its counties. The note has been introduced as an Irish souvenir or Irish gift. It looks exactly like a real Euro banknote with security features such as a watermark, hologram, microprint, security thread and elements that can be seen only under UV light.
The concept of "Euro Souvenir" was introduced to attract tourists and visitors. These notes depict important destinations, historical buildings or anything else that represents that particular country. A French businessman named Richard Faille introduced this concept in France in 2015. The idea was expanded and has now reached Germany, Austria, France, Belgium, Italy Switzerland, Spain and Portugal through various businesses. Read More
BusinessWire - Euro Note Souvenir: Ireland's First '0 Euro Banknote' Officially Released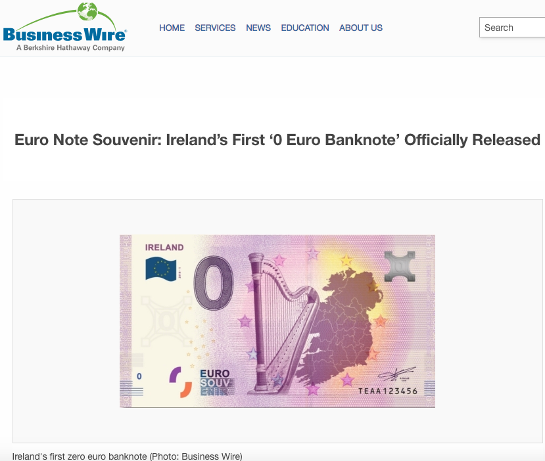 HEADFORD, Ireland--(BUSINESS WIRE)--Euro Note Souvenir, a Galway based company, has launched the first '0 Euro' banknote for Ireland this month. The banknote, also referred to as Euro Souvenir, shows the picture of a Celtic harp and a map of Ireland and its counties, and marks the beginning of the introduction of the Euro Souvenir concept in Ireland as an Irish souvenir or Irish gift.
The Euro Souvenir note looks and feels like a real Euro banknote, and with the Celtic harp and the map of Ireland, one could think of it as an official Irish banknote. The note carries even security features such as watermark, hologram, microprint, security thread and the symbols that appear only under UV light. Read More
NDR TV Television Schleswig-Holstein Magazine - 2017
Because the first batch of 5000 copies was already completely out of stock overnight, Kiel Marketing has now started a new edition. "Now we have 30,000 reordered souvenir banknotes, 16,000 of which have been pre-ordered again," says organiser Eva-Maria Zeiske.

They are now going on sale in Kiel and beyond. But not only in Germany. Orders have arrived in Kiel from France, Italy, England, Spain and even South America. How can one explain the great excitement around the zero euro note?
Report is in German language
This Euro Souvenir note became the best-selling souvenir in France in less than three years:
Abbaye du Mont St. Michel and France Miniature
Report is in French language, with German subtitles
300 Years Hercules Euro Souvenir Banknote - TV Hessenschau 2017
What attracts the crowds here? Shortly after opening the doors, a queue has formed at the Tourist Information. This is probably also due to the limited, Hercules-themed zero Euro souvenir note, which enjoys great popularity. Hercules is celebrating his 300th birthday this year. The Museumslandschaft Hessen Kassel and Kassel City Marketing are honouring this event with a collector's item: a limited Hercules souvenir bank note.
Report is in German language
ORF Tirol TV news: First Euro Souvenir Note in Austria
(Alpenzoo Innsbruck)
The alpine zoo wants to finance a new enclosure for dwarf mice and sells it for 2 euros. Collectors like to spend more on it. The zero-euro notes are already much sought-after and highly popular among collectors.
Report is in German language

Paris (France) - Opera Garnier
Tourists, collectors, children and also the shop manager enjoy the Euro souvenir note. In this TV news report you can see the Euro Souvenir vending machine.
Report is in French language, with German subtitles

Euro Souvenir Note - The new reference product of tourist attractions

Souvenir shops diversify their products nowadays and offer a more modern assortment. A personalized, real souvenir banknote: A high quality souvenir note shows a picture of a tourist attraction. Today, every visitor can buy a souvenir Euro note for 2 euros. This small bill has no financial value, but a sentimental value for the tourists.
Report is in French language, with German subtitles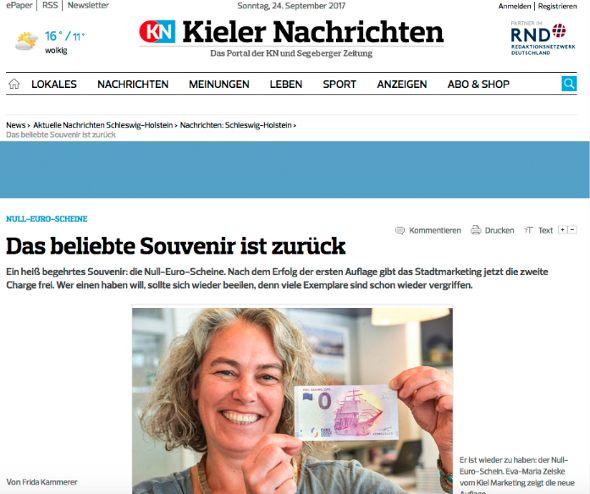 KIELER NACHRICHTEN
Zero Euro Notes: The popular souvenir is back
A more than popular souvenir: the zero euro bank notes. After the success of the first issue, the city marketing has released the second issue. Whoever wants to get one of those souvenir notes should be quick, because a lot of them have already been sold.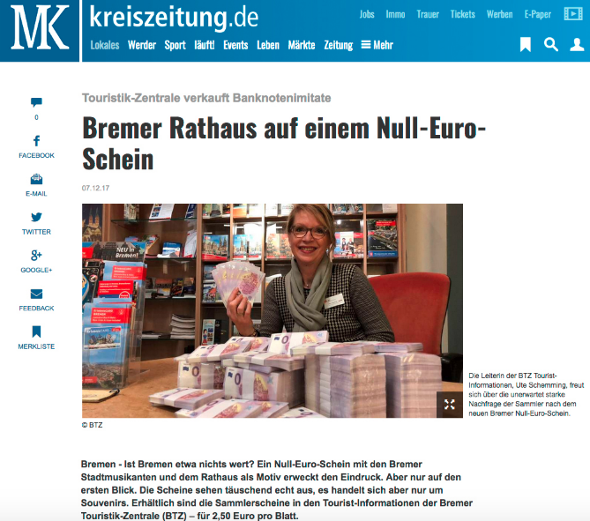 from kreiszeitung.de:
Tourism headquarters sells imitation banknotes:
Bremen City Hall on a zero euro note
Isn't Bremen worth anything? A zero euro note with the Bremen Town Musicians and the Town Hall as motive gives the impression. But only at first glance. The zero euro bank notes look deceptively real, but they are only souvenirs. These collector's items are available at the tourist information offices of the Bremer Touristik-Zentrale (BTZ) - for 2.50 euros per sheet.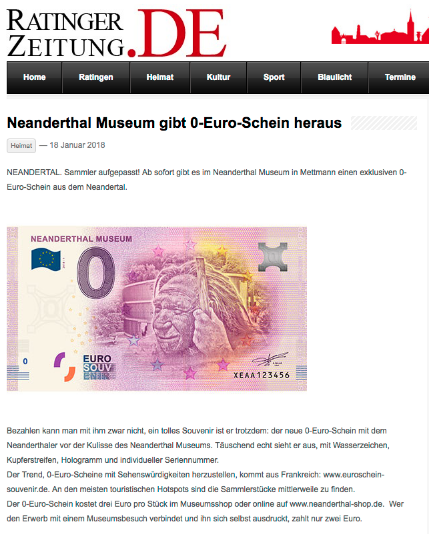 RATINGER ZEITUNG.DE
Neanderthal Museum issues 0-Euro-Note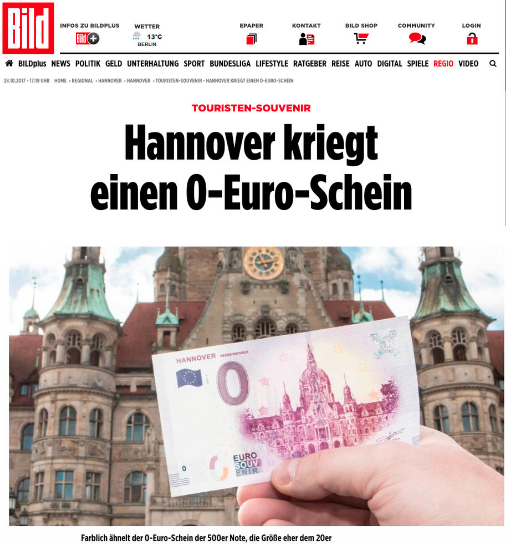 BILD.DE
HANNOVER GETS ITS OWN 0 EURO NOTE
THERE IS PLENTY OF NEWS COVERAGE AND HUNDREDS OF PRESS REPORTS AVAILABLE FROM FRANCE AND GERMANY AND THOSE COUNTRIES WHERE THE ZERO EURO SOUVENIR NOTE IS AVAILABLE.
WE WORK HARD TO GET THE COVERAGE IN IRISH NEWS, TOO AND WILL LINK ANY REPORT IN THIS SECTION.