The Euro Souvenir in international News
TV news, video reports, printed press reports
Since the Euro Souvenir note is a novelty in Ireland and there is none available yet in any english-speaking country, there is unfortunately no news coverage yet with English language. We will work hard to change this soon.
Nevertheless will the shown reports give you a good idea about the incredible popularity and astonishing demand for this innovative type of product, and what this can mean for your institution if you have your own Euro Souvenir note!


NDR TV Television Schleswig-Holstein Magazine - 2017
Because the first batch of 5000 copies was already completely out of stock overnight, Kiel Marketing has now started a new edition. "Now we have 30,000 reordered souvenir banknotes, 16,000 of which have been pre-ordered again," says organiser Eva-Maria Zeiske.

They are now going on sale in Kiel and beyond. But not only in Germany. Orders have arrived in Kiel from France, Italy, England, Spain and even South America. How can one explain the great excitement around the zero euro note?
Report is in German language
This Euro Souvenir note became the best-selling souvenir in France in less than three years:
Abbaye du Mont St. Michel and France Miniature
Report is in French language, with German subtitles
300 Years Hercules Euro Souvenir Banknote - TV Hessenschau 2017
What attracts the crowds here? Shortly after opening the doors, a queue has formed at the Tourist Information. This is probably also due to the limited, Hercules-themed zero Euro souvenir note, which enjoys great popularity. Hercules is celebrating his 300th birthday this year. The Museumslandschaft Hessen Kassel and Kassel City Marketing are honouring this event with a collector's item: a limited Hercules souvenir bank note.
Report is in German language
ORF Tirol TV news: First Euro Souvenir Note in Austria
(Alpenzoo Innsbruck)
The alpine zoo wants to finance a new enclosure for dwarf mice and sells it for 2 euros. Collectors like to spend more on it. The zero-euro notes are already much sought-after and highly popular among collectors.
Report is in German language

Paris (France) - Opera Garnier
Tourists, collectors, children and also the shop manager enjoy the Euro souvenir note. In this TV news report you can see the Euro Souvenir vending machine.
Report is in French language, with German subtitles

Euro Souvenir Note - The new reference product of tourist attractions

Souvenir shops diversify their products nowadays and offer a more modern assortment. A personalized, real souvenir banknote: A high quality souvenir note shows a picture of a tourist attraction. Today, every visitor can buy a souvenir Euro note for 2 euros. This small bill has no financial value, but a sentimental value for the tourists.
Report is in French language, with German subtitles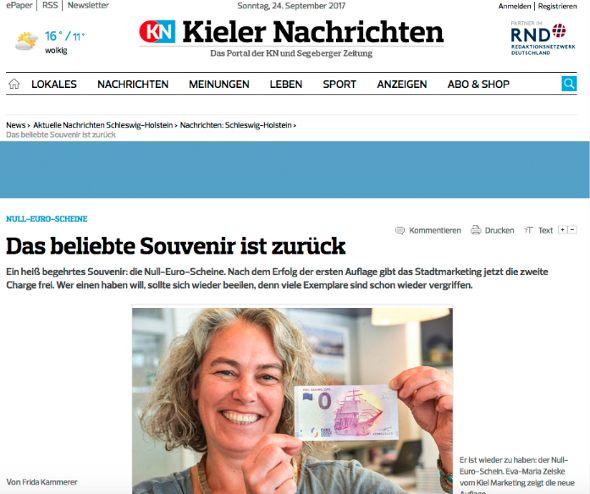 KIELER NACHRICHTEN
Zero Euro Notes: The popular souvenir is back
A more than popular souvenir: the zero euro bank notes. After the success of the first issue, the city marketing has released the second issue. Whoever wants to get one of those souvenir notes should be quick, because a lot of them have already been sold.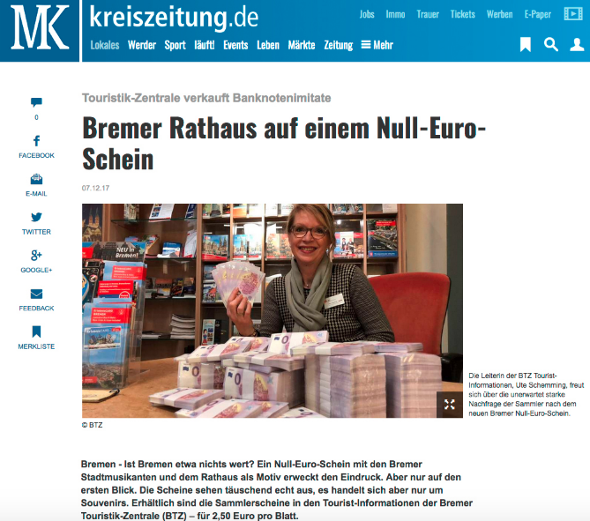 from kreiszeitung.de:
Tourism headquarters sells imitation banknotes:
Bremen City Hall on a zero euro note
Isn't Bremen worth anything? A zero euro note with the Bremen Town Musicians and the Town Hall as motive gives the impression. But only at first glance. The zero euro bank notes look deceptively real, but they are only souvenirs. These collector's items are available at the tourist information offices of the Bremer Touristik-Zentrale (BTZ) - for 2.50 euros per sheet.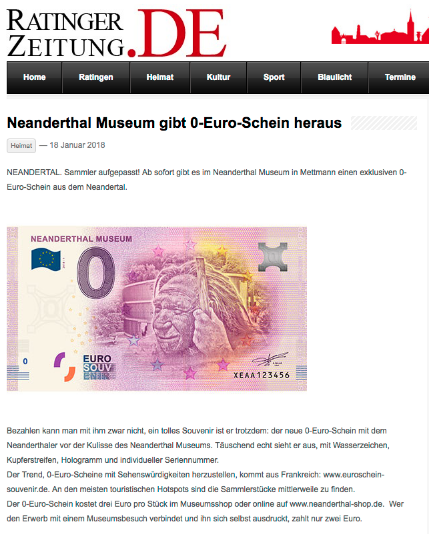 RATINGER ZEITUNG.DE
Neanderthal Museum issues 0-Euro-Note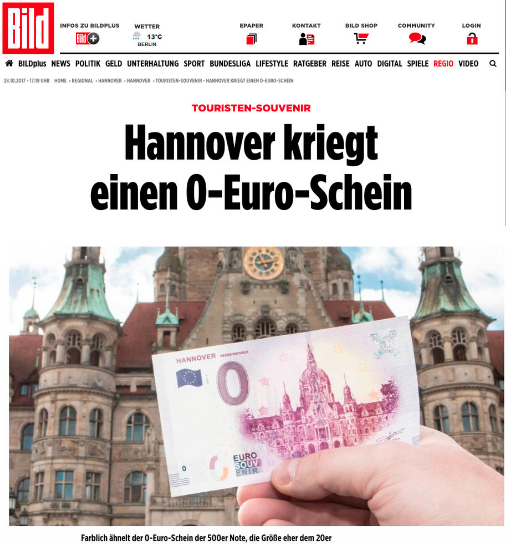 BILD.DE
HANNOVER GETS ITS OWN 0 EURO NOTE
THERE IS PLENTY OF NEWS COVERAGE AND HUNDREDS OF PRESS REPORTS AVAILABLE FROM FRANCE AND GERMANY AND THOSE COUNTRIES WHERE THE ZERO EURO SOUVENIR NOTE IS AVAILABLE.
WE WORK HARD TO GET THE COVERAGE IN IRISH NEWS, TOO AND WILL LINK ANY REPORT IN THIS SECTION.