A Euro Souvenir for the 30th Anniversary of the Foynes Museum
A special Euro Souvenir note was designed for the 30th birthday of the Flying Boat & Maritime museum in Foynes, Co. Limerick, Ireland. It shows a collage with imagery of the museum. For this event, we also made a little promo video and we look forward to visit the museum on 7th July. See you there! Read More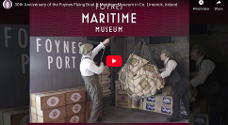 New Release in June: "Foynes Flying Boat & Maritime Museum" 0 Euro Banknote
The fourth of the upcoming 0 Euro Banknotes that will be released in June shows a stunning collage that captures the essence of the Flying Boat & Maritime Museum in Foynes. This Euro Souvenir is dedicated to the 30th anniversary of the museum this year. Read More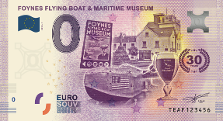 New Release in June: "Dublin" 0 Euro Banknote
The third 0 Euro Banknote of the new releases is titled "Dublin". It is a collage of some of the most iconic, best-known landmarks in Dublin. And it looks really beautiful and is a unique keepsake for everybody who has visited Dublin and who has seen all those places. Read More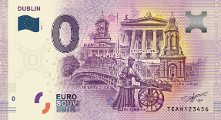 New Release in June: "Ireland" 0 Euro Banknote
The second 0 Euro Banknotes of the new releases of the new series is titled "Ireland", and shows a collage of some of Ireland's most well-known places and landmarks, such as the Blarney Castle, Giant's Causeway and the Cliffs of Moher. Read More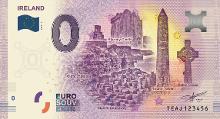 New Release in June: Eire Banknote
June is a big month, because a total of four new, beautiful motifs in the series of Ireland's Euro Souvenir banknotes are going to be released. The first one is titled "Eire", and features a celtic harp and the map of Ireland, along with shamrocks and the Triquetra or Trinity Knot, a Celtic Symbol. Read More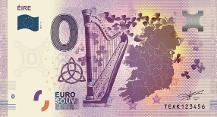 Personalized souvenirs for heritage center
The Euro Souvenir is a great concept for small and large heritage center, because it allows them to represent the significance of their work and their collections as well as the beauty and importance of the heritage on a personalized souvenir banknote. Read More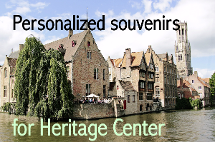 Competition Time: 10 x Cliffs of Moher banknotes to win
We will start a Facebook competition shortly, where ten lucky winners are picked who will receive their unique 0 Euro banknote with the Cliffs of Moher at the end of March. Read More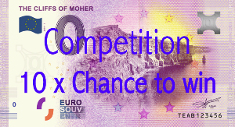 The Cliffs of Moher on a banknote
Around the end of march, a new and very special banknote will be available in Ireland. It is a 0 Euro banknote, also referred to as Euro Souvenir, that shows a stunning picture of the Cliffs of Moher, one of Ireland's most iconic and most visited natural attractions. Read More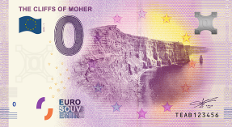 Local heroes: Entrepreneur out to cash in on demand for souvenir euro note

Our company was featured this sunday, 10.02.2019, in the popular column 'Local Heroes' of the Sunday Independent. Yesterday, the article was published online and can be read here. Many thanks to the Sunday Independent and the journalist who wrote that great article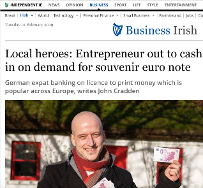 Business Opportunity for local souvenir shops and gift shops
Many famous visitor attractions like famous castles or even natural formations (as for example the Cliffs of Moher) have a variety of dedicated souvenir and gift shops nearby, that benefit from the amount of visitors and tourists, and provide them with nice products that the tourists can purchase, so they have a nice keepsake and souvenir to their visit.
Read More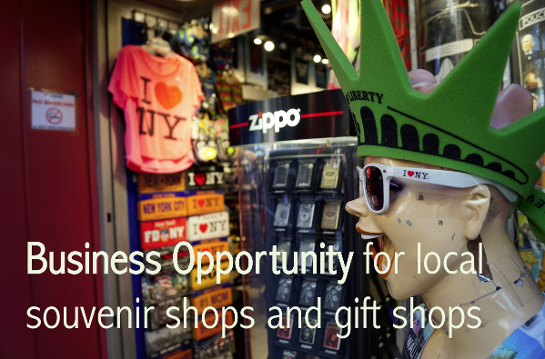 Marketing your Zoo or Animal Park
The Euro Souvenir banknote is very successful in marketing a Zoo, an Animal Park, Wildlife Park or Animal Sanctuary in France, Germany and other EUR countries. It is a very popular souvenir for visitors and also the large community of collectors waiting for new motifs to be released across the EU. Read More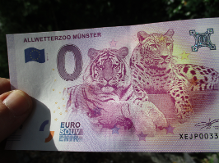 New souvenir and memorabilia product for innovation-starved visitor attractions


As of January 2019, the very popular and highly innovative Euro Souvenir Banknote (also known as '0 Euro Banknote') is finally available to order in Ireland! Since its invention in 2015, this creative concept, that has been specifically designed for visitor and tourist attractions, has become very popular in different EU countries in a very short time, whereby proving its commercial success and popularity with visitors and collectors alike.
Read More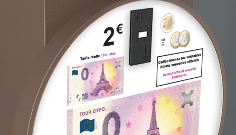 How tourist and visitor attractions in Ireland benefit from the Euro Souvenir banknote?
Having a real banknote with the picture and name of your attraction on it, be it a museum, a castle, a zoo or any other visitor or tourist site, is a great thing. And your business can benefit from it in different ways. The Euro Souvenir banknote is an innovative product that resonates very well with visitors and collectors alike, as the experience from different EU countries such as France, Germany, Italy, Slovakia, Belgium and others show. And from January 2019, it is available for visitor attractions and touristic sites in Ireland. Read More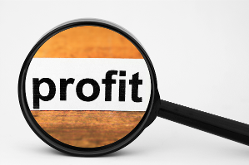 License contract for Euro Souvenir aka. 0 Euro banknote signed in October 2018

Euro Note Souvenir signed the contract for the country-license for the popular Euro Souvenir concept (also known as 0 Euro banknote) in October, and has acquired the license to print money, so to speak. From January 2019, the company will be ready to take orders from visitor attractions and tourist sites all over Ireland. Any well-known historic and cultural heritage site, iconic buildings and places, landmarks or famous event can now have a real banknote printed with their own picture. Read More