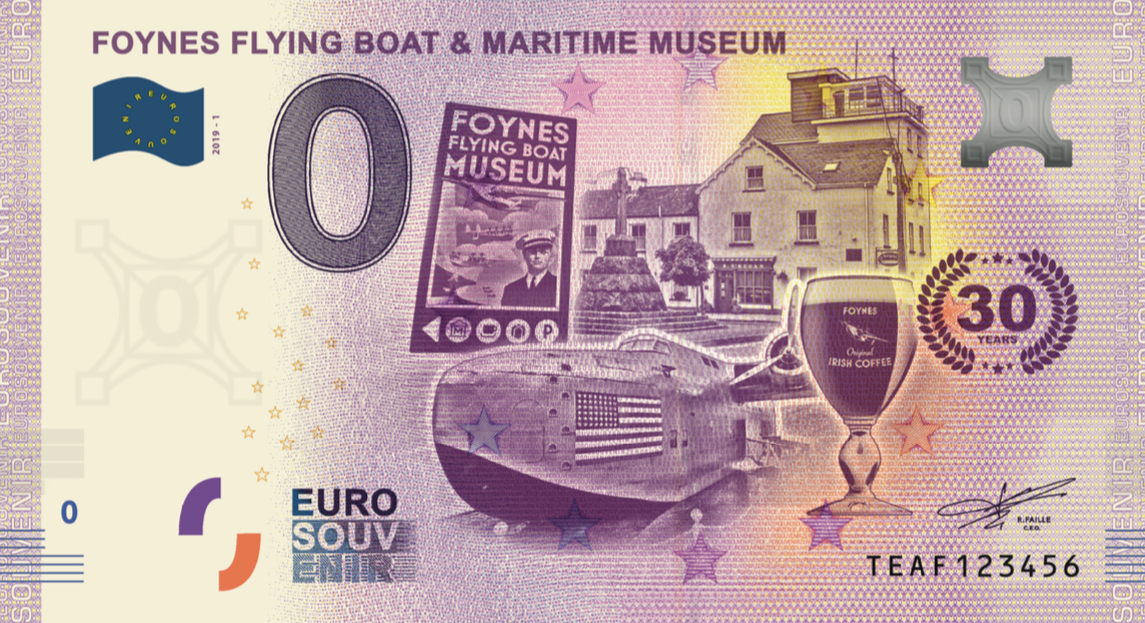 "Foynes Flying Boat & Maritime Museum" 0 Euro Banknote
The fourth of the upcoming 0 Euro Banknotes that will be released in June shows a stunning collage that captures the essence of the Flying Boat & Maritime Museum in Foynes. This Euro Souvenir is dedicated to the 30th anniversary of the museum in 2019.
What better way is there to celebrate such an important anniversary than by issuing an own banknote? It will be a beautiful keepsake for visitors of the museum, and certainly a well-sought item by the international community of collectors of the 0 Euro banknotes. Once the notes are printed, they can be ordered from the online shop on the museum's website.
Some information about the museum and the motif (the images below are the original photographies used for the design of the note):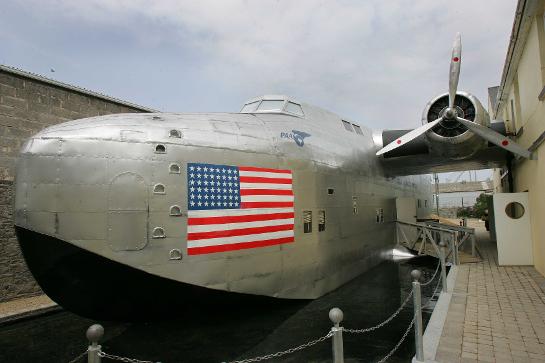 Board the only B314 flying boat replica in the world. All the commercial flying boats landing in Foynes featured upscale amenities, but the B314 had true ocean liner luxury. Some westbound flights took 17 hours to reach Botwood before refuelling and departing for New York. This amazing Flying Boat had a 14-seat dining room, honeymoon suite, spacious flight deck catering for up to seven crew members, deck quarters for the crew, and sleeping berths for all passengers on transatlantic flights. A one-way ticket from New York to Foynes at the time cost $375
The Origin of Irish Coffee

Here's the story of the world's most famous drink:

Foynes and flying boats are closely connected to Irish coffee, playing a significant role in the invention of this favorite Irish treat. Of course, as with anything in Ireland, the weather played a role, too.
In 1943, Brendan O'Regan opened a restaurant and coffee shop in the Foynes terminal building. It quickly became regarded as one of the best restaurants in Ireland. Chef Joe Sheridan, originally from Castlederg, County Tyrone, had been recruited by O'Regan to run the kitchen.

Read More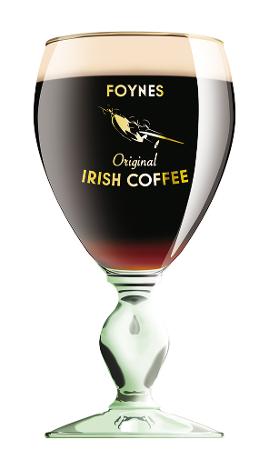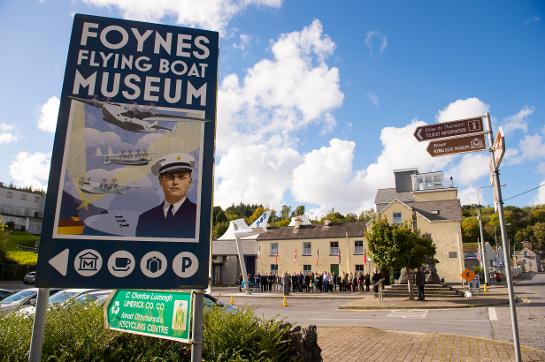 This is the street sign of the Foynes Flying Boat Museum that was used as a part of the motif. The design is a kind of vintage design style that looks as it is from the era of the flying boats.
Further back is the museum in the yellow building.
Another picture of the museum, from a different angle.
The Foynes museum is a great destination for a family trip in Ireland, and it should also be on the list of things to see for tourists visiting the country. There is much to see and much to learn about the early history of aviation, as well as the first non-stop flights from Ireland to the US. Please read more about the Foynes Flying Boat and Maritime museum on the museum's homepage: