The Cliffs of Moher on a banknote
Ireland's iconic place depicted on a Banknote
Around the end of march, a new and very special banknote will be available in Ireland. It is a 0 Euro banknote, also referred to as Euro Souvenir, that shows a stunning picture of the Cliffs of Moher, one of Ireland's most iconic and most visited natural attractions.
Here is a picture of the design: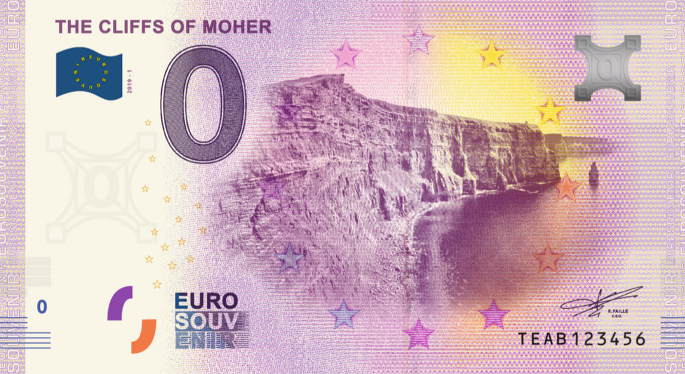 It is the first of a series of 100 different motifs of Ireland's top visitor locations and attractions that are planned over the next 5 years. The banknote is a very popular souvenir and desired item for tourists and collectors alike.
The 0 Euro Banknote is a souvenir banknote authorised by the European Central Bank and printed by Oberthur, a facility in France that also prints the real euro banknotes.
For this reason, it has a watermark, holographic protection and tactile marks that are visible under UV-light, plus it is printed on real banknote paper - basically the same security features like a traditional banknote. When tested with any banknote tester, pen or UV light, it will always show as a real banknote. One might be surprised to try it out.
As well as looking and feeling like the real Euro banknote, it can be personalised with a picture of any visitor attraction, event or building. Visitor attractions in Ireland can order their own, exclusive banknotes with their own attraction or motif displayed, and sell them to their visitors on-site via an ATM-like machine, so they have a beautiful keepsake and souvenir of their visit.
Initially, the Cliffs of Moher banknote will be available from Euro Note Souvenir Ltd., but any gift shops around the Cliffs of Moher (or elsewhere in Ireland) are welcome as resellers, or they can even acquire the exclusive right for this banknote. Please get in touch for further information.
The Cliffs of Moher banknotes are available for pre-ordering as of now, however the shipping will take place at the end of march / beginning of April. Due to the fact that the production of those banknotes is very special, the process of arranging the banknote press for the new motifs and producing the banknotes takes around 8 weeks in total.
The following pictures will give an idea how the process works. The first picture is the original photograph used for the production of the Cliffs of Moher banknote. The second picture is the final design: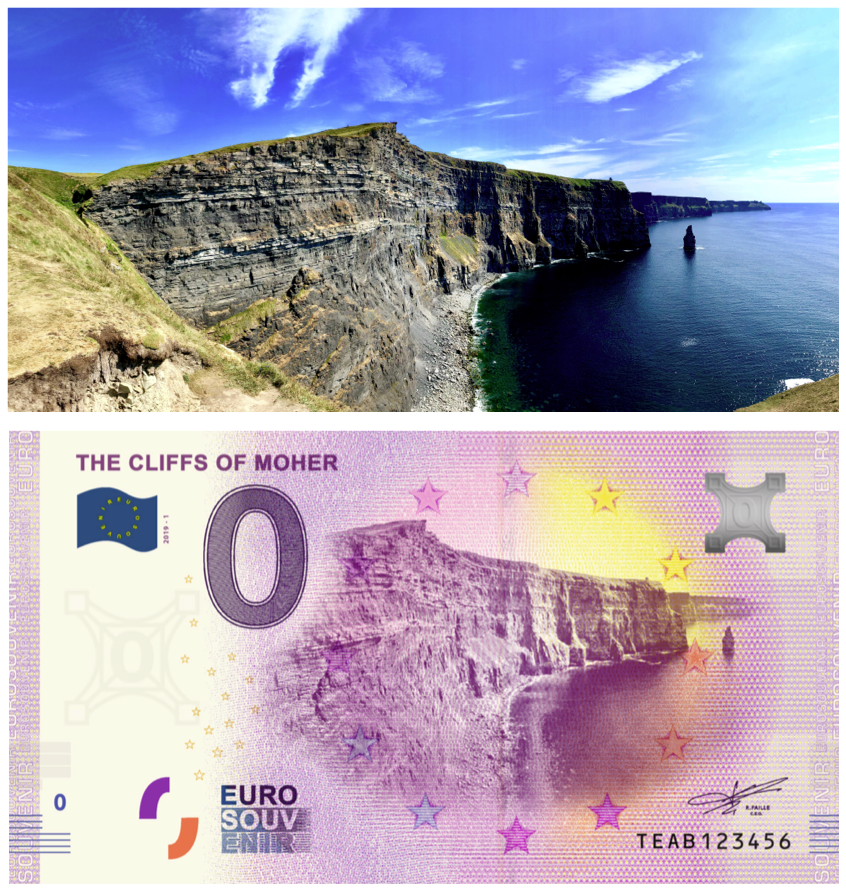 As it becomes evident from the pictures, it does not require more than a high quality photograph (or image or drawing) to prepare the design of a 0 Euro banknote, even though the production of the notes is very special and takes a few weeks time.
So any visitor or touristic site in Ireland can get its own, exclusive souvenir banknote as a very special keepsake (and, of course, marketing tool). For additional information, feel free to read our recent feature in the INDEPENDENT.IE, browse our homepage and blog, or simply get in touch to discuss your own, personalized banknote for your business.